Just 2 nights ago, the Philadelphia Flyers marched into Pittsburgh with a 13-2-1 record at Consol Energy Center.  Heck, the Philadelphia Flyers Twitter account tweeted this photo below with the caption: "Home sweet (second) home #PHIvsPIT"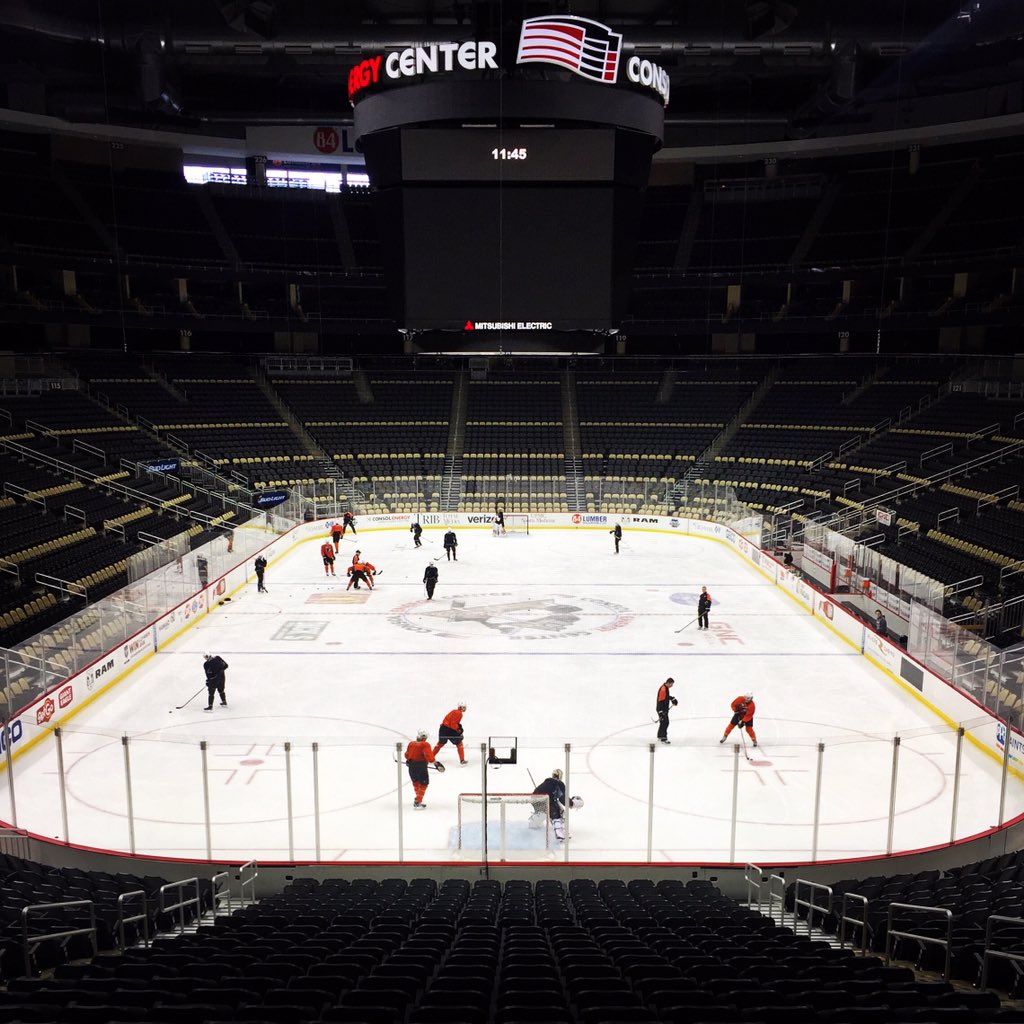 And unfortunately, it has been their second home.  The Penguins haven't beat Philadelphia, regardless of venue, since October 17, 2013 going into this game.  Last time the Penguins won at Consol Energy Center against Philadelphia was March 24th, 2013 in a game that took OT to decide.  Tyler Kennedy had the game-winner in OT.
After the 1st period, the Penguins gave up 2 power play goals to Brayden Schenn and Jake Voracek, and were trailing 2-0 after the first.
Given the history of these 2 teams at Consol, I along with many other fans I would assume, thought this game was over and done.  I was wrong.
The Penguins battled back in the 2nd, and went into the 2nd intermission up 3-2, scoring 2 power play goals from Daley and Kessel, and adding 1 more from Crosby that was a ridiculous shot at a ridiculous angle.  Kessel netted another goal in the 3rd to make it 4-2.  Giroux did respond for the Flyers, but the Penguins held on and won 4-3.
This was not only a great come from behind win, but an absolute HUGE 2 points against a Flyers team that is chasing them in the standings.
This afternoon, the Penguins took on the Canucks despite the snowy conditions here in Pittsburgh.  Once again, the Penguins found themselves down 2-0 at the intermission on 2 goals by Canucks' forward Jannik Hansen, who had a terrific game, and looked like one of the fastest forwards in the league.
Evgeni Malkin scored a 5 on 3 power play goal in the 2nd period to cut the lead in half, but the Penguins were still trailing 2-1 going into the 3rd.
A few minutes into the 3rd period, Canucks' forward Bo Horvat fired a shot top corner on Fleury, using Letang as a screen, and gave the Canucks a 3-1 lead with only 14 minutes remaining in the game.  Once again, it did not look so good for the Penguins.
Then, just a minute later, Evgeni Malkin was at it again.  He carried the puck into the slot and was skating right to left.  He tried to get Miller off of his angle, but Miller never gave Malkin a good chance to shoot.  Malkin ended up carrying the puck behind the net, but was able to throw the puck to the front.  Luckily for Malkin, the puck went right off of a Canuck stick and into the net.  It was 3-2 now, and the Penguins had life.
Not much longer the Penguins tied the game 3-3.  Who scored?  Well, who else???
Malkin notched his 10th career hat trick on this goal, and single-handedly brought the Penguins back in this game.  What a great game for Geno.
With only 7 minutes to go, Bryan Rust notched his 2nd of the season, and his 1st since returning from injury, and what a big goal it was.  Kuhnhackl got his first NHL point on the assist.  Although Rust scores the goal, it never would have happened without Eric Fehr.  Fehr screened Miller and never allowed Miller to see the sneaky quick shot that Rust took.  It wasn't a hard shot, but because Miller never saw it, he did not fall into the butterfly, and the puck went 5-hole and gave the Penguins the lead.
Crosby then scored on an empty net, which ended up being a huge empty net goal.  That being said, Hagelin could have easily scored on the empty net, as he was in a 2 on 1 with Sid going towards an open net, but he passed it and Sid buried it.  Classy play from Hagelin, who has yet to score as a Penguin.  Although, he has been getting his chances and has been playing very well.  I love how much he can create with his speed.
Jannik Hansen scored with 16 seconds remaining to cap a hat trick of his own, but it wasn't enough to tie the game, and the Penguins held on and won 5-4.
I want to take you back in time for a second…
Can you all remember earlier in the year, when the Penguins could not come backto win games under Johnston?  It seemed, at least to me, that if the other team scored the first goal, the game was over.  The Penguins just could not come back in games.
Now, that is different.
The Penguins just overcame back-to-back 2 goal deficits in the first period.  Although I wish the Penguins wouldn't continue to give up the first 2 goals in games, it is just visible that this team believes in itself and that they believe in their coach.
Their power play is clicking, their offense is clicking…
They are starting to play Penguins hockey.
So yeah, their record under Sullivan isn't great yet, but I can tell you from watching the Penguins recently, they are playing with some desire.  They want to win.  They believe that they can win.  I believe they can win.  And you should too.
I feel a win streak coming on…